Porcelain Lightning Arrester Feature
1. High Quality:
We guarantee that all our products are of high quality, unlike those that sell fake products without any certifications. These counterfeit products have caused numerous major accidents, posing a serious threat to our safety and property.
2. Stainless Steel Head with Electrical Contacts:
The porcelain lightening arrester is crafted from premium stainless steel, offering exceptional resistance to corrosion and rust. Moreover, its excellent conductivity ensures a seamless circuit connection, guaranteeing smooth and efficient performance.
3. Low Maintenance:
These advanced lightening arresters require minimal upkeep, eliminating the need for regular cleaning or inspection. This not only saves valuable time but also reduces downtime and maintenance costs. Industries and sectors that rely on surge protection, such as power transmission, renewable energy, and industrial applications, can benefit greatly from the low maintenance requirements of polymer-housed metal oxide surge arresters.
Porcelain Lightning Arrester Advantages
1. Compact & Lightweight:
The porcelain lightening arresters offer numerous advantages, including their compact and lightweight design. This feature makes them incredibly convenient to install and handle, particularly in environments with limited space. Their smaller size allows for greater flexibility during installation, accommodating even the most space-constrained areas.
2. Professional Team:
With over 30 years of establishment, our company has amassed a wealth of knowledge and expertise. Our team comprises more than 1000 skilled professionals, enabling us to provide unparalleled support even for large-scale orders.
Product Parameter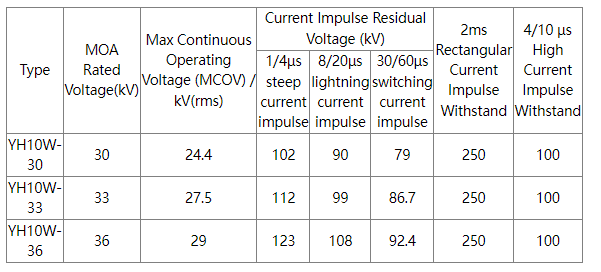 Application: