24kV Polymer-housed Metal Oxide Surge Arrester Features
1. Excessive Protection:
The core component of the metal oxide surge arrester plays a crucial role in determining the overall electrical performance of the arrester. This component is responsible for effectively protecting electrical systems from overvoltage surges. Its design and characteristics directly impact the arrester's ability to suppress and divert excessive electrical energy.
2. Excellent Property:
Metal oxide surge arresters consist of a ceramic core made of zinc oxide, which exhibits excellent nonlinear voltage-current characteristics. This core is specifically engineered to provide high resistance under normal operating conditions, ensuring minimal power loss in the protected system. However, when subjected to overvoltage conditions, the core's resistance rapidly decreases, allowing it to effectively divert the excess energy and protect the system.
24kV Polymer-housed Metal Oxide Surge Arrester Advantages
1. Flexible Installation:
Its compact size allows for easy transportation and installation, making it a convenient choice for various applications. Additionally, the lightweight nature of the core further enhances its portability without compromising its performance.
2. Durable:
The core of the metal oxide surge arrester is designed to be highly durable, ensuring long-lasting protection against overvoltage surges. Its robust construction and resistance to environmental factors make it suitable for use in diverse settings, including industrial, commercial, and residential environments. This durability translates into cost-effectiveness, as the arrester requires minimal maintenance and replacement.
3. High Quality:
The use of high-quality composite jacket with good airtightness and good aging performance ensures reliable sealing and stable performance of the arrester. After producing, we will check all arresters with serious steps to make sure the quality, the failed arresters will be threw away until it succeed.
Product Parameter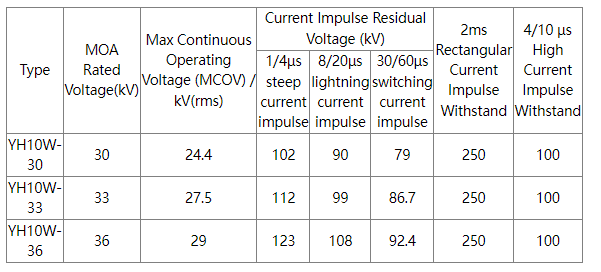 Application
Railway for voltage protection

Power stations for voltage protection

Substations for voltage protection

Outdoor Power Distribution for voltage protection