33kV Polymer-housed Metal Oxide Surge Arrester Feature
1. Good Protection:
When faced with overvoltage or overcurrent situations, the arrester excels at safeguarding the connected appliances. It efficiently diverts excessive electrical energy away from the circuit, preventing damage to sensitive equipment and minimizing the risk of electrical fires or other hazards.
2. Rigorous Process:
The surge arresters undergo rigorous testing procedures to ensure the delivery of reliable and high-quality products. These tests are conducted multiple times to minimize the risk of receiving faulty or defective units.
33kV Polymer-housed Metal Oxide Surge Arrester Advantages
1. Long-lasting Use:
By incorporating metal oxide surge arresters into electrical systems, users can have peace of mind knowing that their circuits are well-protected. These arresters are designed to withstand and mitigate the impact of voltage spikes, power surges, and other electrical anomalies. This not only safeguards the appliances but also helps maintain the overall integrity and longevity of the circuit.
2. Real Manufacturer Supply:
We are combined with research, development, manufacturing and trading together, there are 36 senior engineers and 100 mid-level technical persons.
Product Parameter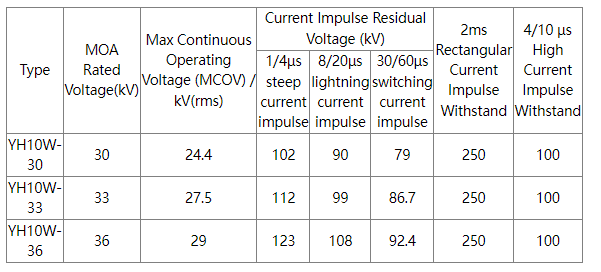 Application
In electric power industrial

In communication industrial

In traffic industrial

In factory industrial